N2OR
BROADCASTING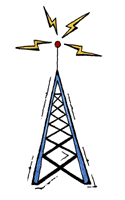 North 2 Ossining Radio

There are 2 licensed broadcast stations in Ossining, New York.
Both are non-commercial, low power FM stations.
WOSS-FM 91.1 Mhz. at Ossining High School
signed on in 1972. It is one of the first FCC licensed high school stations in the New York City metropolitan area. N2OR, at age 15 with an F.C.C. commercial Radio-Telephone Operators License, was instrumental in the creation and operation of this station.

In 1995, a second FM non-commercial station signed on the air.
WDFH-FM at 90.3 Mhz.
began broadcasting with an alternative rock music mix.

STATIONS
WLNG-FM TRIBUTE REAL AUDIO
WNEW TALK O&A SITE
FAMILY RADIO
WCBS-FM 101.1 in NYC.
CBS-FM HD2 INTERNET STREAM
WWUS FLORIDA KEYS
JUKEBOX RADIO (LOW POWER)
CBS/INFINITY RADIO STATIONS
RADIO STATIONS BROADCASTING ON THE WEB

DATABASES AND TECHNICAL INFORMATION
BROADCAST STATION LOCATION PAGE
FM STATIONS PROTECTED CONTOURS
FCC RULES REGARDING BROADCASTING (PART 73)
AUDIO, DATABASES & LINKS
FM SCA SUBCARRIER INFORMATION
AIRWAVES MEDIA LOG
ELLIOTT'S RADIOSTATION DATABASE
NYC METRO AM STATIONS POWER/ANTENNA INFO
NYC METRO FM STATIONS POWER/ANTENNA INFO
ENGINEERING DATABASE
NYC METRO TRANSMITTER SITES MAP
H.F. (SHORTWAVE) BROADCASTING
U.S. RADIO AND TV DIRECTORY
COMPREHENSIVE FCC BROADCAST DATA
RADIO ROADTRIP HIGHWAY LOOKUP
WABC TRANSMITTER INFORMATION AND MORE
WEB PAGES
WARPRADIO DIRECTORY
440 SATISFACTION DJ SITE
RADIO DJ FINDER WEB SITE
RADIO DIGEST - NEW YORK
MIKE'S RADIO WORLD
TOPRADIO DIRECTORY
MEDIA RESUME LISTINGS
AM STEREO BROADCASTING
FM DX INFORMATION
OLD CALL LETTER ASSIGNMENTS
RRC NON-COMM/WEB RATINGS
NEW YORK RADIO
* NEW YORK RADIO GUIDE *
THE NYC RADIO PAGES
NYC RADIO/WEB DIAL
REEL RADIO TOP 40 REPOSITORY
R&R ONLINE RATINGS
RADIO INK NEWS
WABC MUSICRADIO 77
570 WMCA TRIBUTE PAGE
NEW YORK RADIO MESSAGE BOARD
NYC RADIO-INFO MESSAGE BOARDS
MESSAGE BOARDS AND RADIO LINKS
NORTHEAST RADIO/TV TOWER SITES
EMPIRE STATE BLDG. TRANSMITTERS (PRE WTC)
RADIO & TV INFORMATION LINKS
RDS - INFORMATION ON FM SUBCARRIERS
AIRWAVES RADIO WEB PAGE
NEW YORK AREA MUSIC RADIO GUIDE
BOB SHANNON'S PAGE ('CBS-FM)
MYSTIQUE OF THE 3 LETTER CALLSIGNS
DID WIRELESS TELEPHONE PRECEDE RADIO?
WORLDWIDE TV-FM DX ASSOCIATION
TRANSMITTER SITES FROM HELL


REC.RADIO.BROADCASTING
ALT.RADIO BROADCASTING
ALT.RADIO BROADCASTING OPEN

FCC BROADCAST DATABASE
DIRECT CALLSIGN LOOKUP
AM RADIO STATIONS IN WESTCHESTER COUNTY

| | | | | |
| --- | --- | --- | --- | --- |
| CALL LETTERS | FREQUENCY | POWER DAY/NIGHT | ANT¹ | CITY OF LICENSE |
| WFAS | 1230 kHz. | 1000/1000 | NDA | WHITE PLAINS |
| WLNA | 1420 kHz. | 5000/1000 | DA2 | PEEKSKILL |
| WRVP | 1310 kHz. | 5000/33 | DA1 | MOUNT KISCO |
| WVOX | 1460 kHz. | 500/122 | NDA | NEW ROCHELLE |


¹ ANTENNA
NDA - NON DIRECTIONAL DAY AND NIGHT.
DA1 - DIRECTIONAL PATTERN SAME DAY AND NIGHT.
DA2 - DIRECTIONAL PATTERNS DIFFERENT DAY AND NIGHT.





FM RADIO STATIONS IN WESTCHESTER COUNTY
CALL LETTERS
FREQUENCY
POWER¹
ANT²
CITY OF LICENSE
WARY
88.1 Mhz.
42h/39v
D³ 123
VALHALLA
WDFH
90.3 MHz.
53
D 145
OSSINING
WDVY
106.3 MHz.
980
135.1
MOUNT KISCO
WFAS-FM
103.9 MHz.
600
204
BRONXVILLE
WHUD
100.7 MHz.
50000
152
PEEKSKILL
WJZZ
90.1 MHz.
100 v
D -31
NORTH SALEM
WKLV-FM
96.7 MHz.
3100
143
PORT CHESTER
WOSS
91.1 MHz.
15 h
21
OSSINING
WVIP
93.5 MHz.
1750
132
NEW ROCHELLE
WXPK
107.1 MHz.
1900
D³ 180
BRIARCLIFF MANOR
WWES
88.9 MHz.
200 v
Di 35
MOUNT KISCO




¹= EFFECTIVE RADIATED POWER (h horizontal, v vertical).
²= ANTENNA HEIGHT ABOVE AVERAGE TERRAIN IN METERS.
³= INDICATES A DIRECTIONAL ANTENNA.




AMATEUR RADIO
QUICK CALLSIGN LOOKUP

© 2012 N2OR - ALL RIGHTS RESERVED